[ad_1]

Before You Go
Bolivia is an awesome country, but, as with any trip, especially one to a developing country, flexibility is key to your enjoyment.
Sometimes buses run late, roads are closed, and plans get delayed. Stay positive and remember that the unexpected parts of your journey are often the moments that make the best memories!
Following this itinerary, you will be seeing a lot of different parts of the country, meaning that you will be moving from city to city quite often. As such, I suggest packing in a very portable suitcase; something lightweight or even a backpack would be perfect. It will make moving between locations much easier.
This itinerary involves using a lot of public transportation throughout Bolivia. You can read more about how to stay safe while doing so, and more basic tips and tricks for traveling in Bolivia, here.
When planning your trip to Bolivia, remember that the winter months from May through October are colder, but drier, while the summer months from November through April are warmer but much rainier. Plan and pack accordingly!


Day 1 – Arrive in La Paz
You'll start your Bolivian journey in La Paz, most likely with a flight into El Alto International Airport (LPB). Sitting at 13,325 ft (4,061 m) above sea level, it is the highest international airport in the world.
That being said, make sure you stay hydrated on your flight so that when you land you won't be overcome by altitude sickness.
For visitors that aren't used to such a height, the altitude can lead to mental lapses as well as physical discomfort, so please, don't forget your bags at the airport! (You'd be surprised how often that happens.)
Once you have your bags, you'll head outside and be greeted by a view of Huayna Potosí, one of the peaks in the surrounding mountain range. Grab an official taxi and head to your hotel.
If you're anything like me, your next step will be a nice long nap to continue allowing your body to adjust, followed by a delicious dinner somewhere nearby.
You can read more about the various forms of public transportation in La Paz, as well as great options for accommodations, activities, and restaurants in my local's guide to La Paz!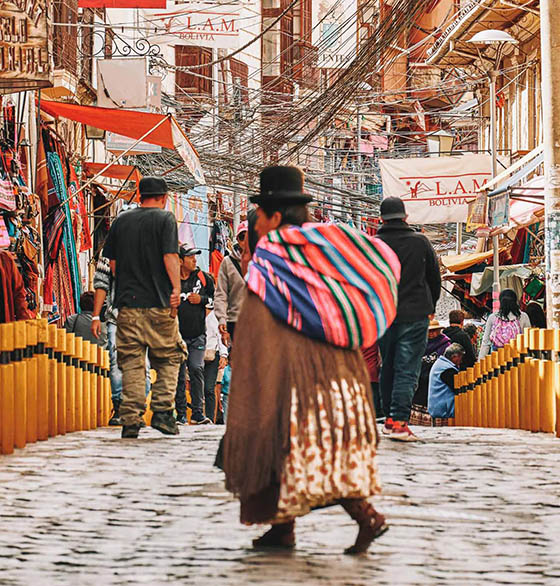 A Local's Guide to La Paz, Bolivia

Day 2 – Explore La Paz
Time to explore one of the world's coolest cities! Hop on the teleférico, shop on Calle Sagarnaga, wander down Calle Jaén, catch a soccer game, hike in the Valle de la Luna, and munch on a salteña or two!
Need more ideas for what to see and do in La Paz? Check out this guide.

Day 3 – Relax in Copacabana
The charming lakeside town of Copacabana sits a few hours away from La Paz on the shores of the world's highest navigable lake, Lake Titicaca.
When I lived in La Paz, Copacabana was my absolute favorite weekend getaway.
How to Get to Copacabana
To get to Copacabana from La Paz, head to the Cementerio neighborhood. You can do this by flagging down one of the many collectivo forms of transportation with a Cementerio sign in the front window, taking the red teleférico line to La Paz's general cemetery, or flagging down a taxi and telling the driver you are trying to get to the Copacabana buses.
Once you arrive, you will see several buses heading to Copacabana, indicated by the signs in the windows. Depending on whether you take a bus or minivan, tickets can be purchased for as low as 30 BOB (less than $5 USD).
After about three hours, you will arrive at the small town of Tiquina where you will need to disembark from the bus and ferry over to the other side of the strait separately. The ferry costs 2 BOB (less than $0.30 USD).
This is also a great opportunity for a bathroom break, or to buy a snack to tide you over for the rest of your journey. Perhaps you will enjoy pasankalla, the giant, often sweetly flavored popcorn sold in large bags in towns near the lake.
Once on the other side, you will have another hour or so on the bus before arriving in Copacabana. The bus will most likely drop you off at the plaza in front of the town's white basilica. From there, you can make your way to your lodgings.
Where to Stay in Copacabana
The best place to stay in Copacabana is definitely Hotel La Cupula. Featuring unique architecture, cozy suites, and a wonderful on-site restaurant, Hotel La Cupula is one of Bolivia's best.
Spend some time in one of their hammocks overlooking the lake relaxing with a good book and you'll see why this place is so endearing.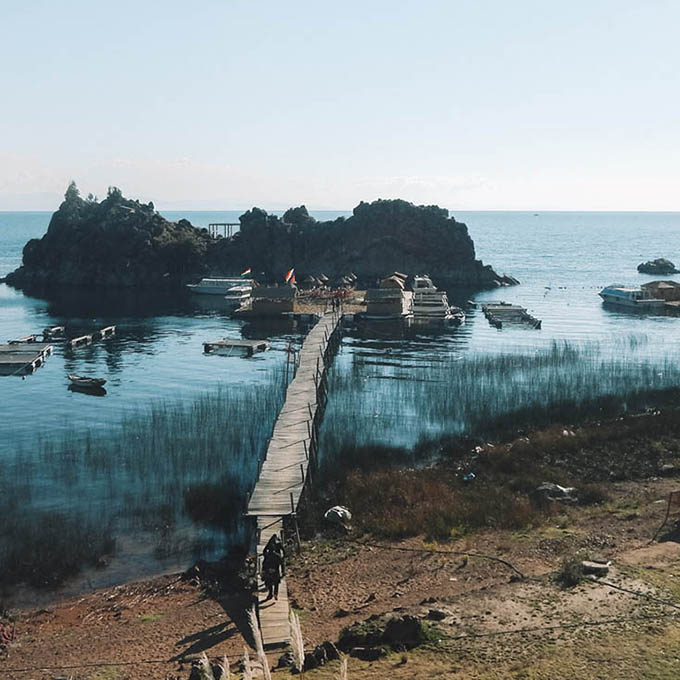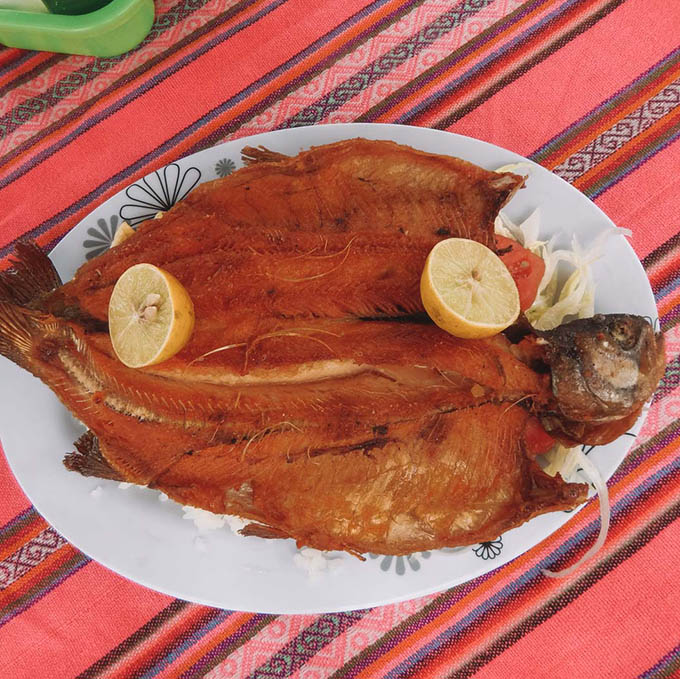 What to See and Do in Copacabana
Besides spending a relaxing afternoon on the grounds of La Cupula, you can also hike up the stations of the cross trail, rent a motorcycle to zip around the countryside for the day, or visit one of the islas flotantes (floating islands) on the lake for a delicious meal of fried trucha (lake trout).
You can get to several of these floating fish restaurants by walking along the lakeside outside of town or taking a ferry from the main harbor.
Interested in a more rustic trip to Lake Titicaca? Check out this guide to trekking in the area.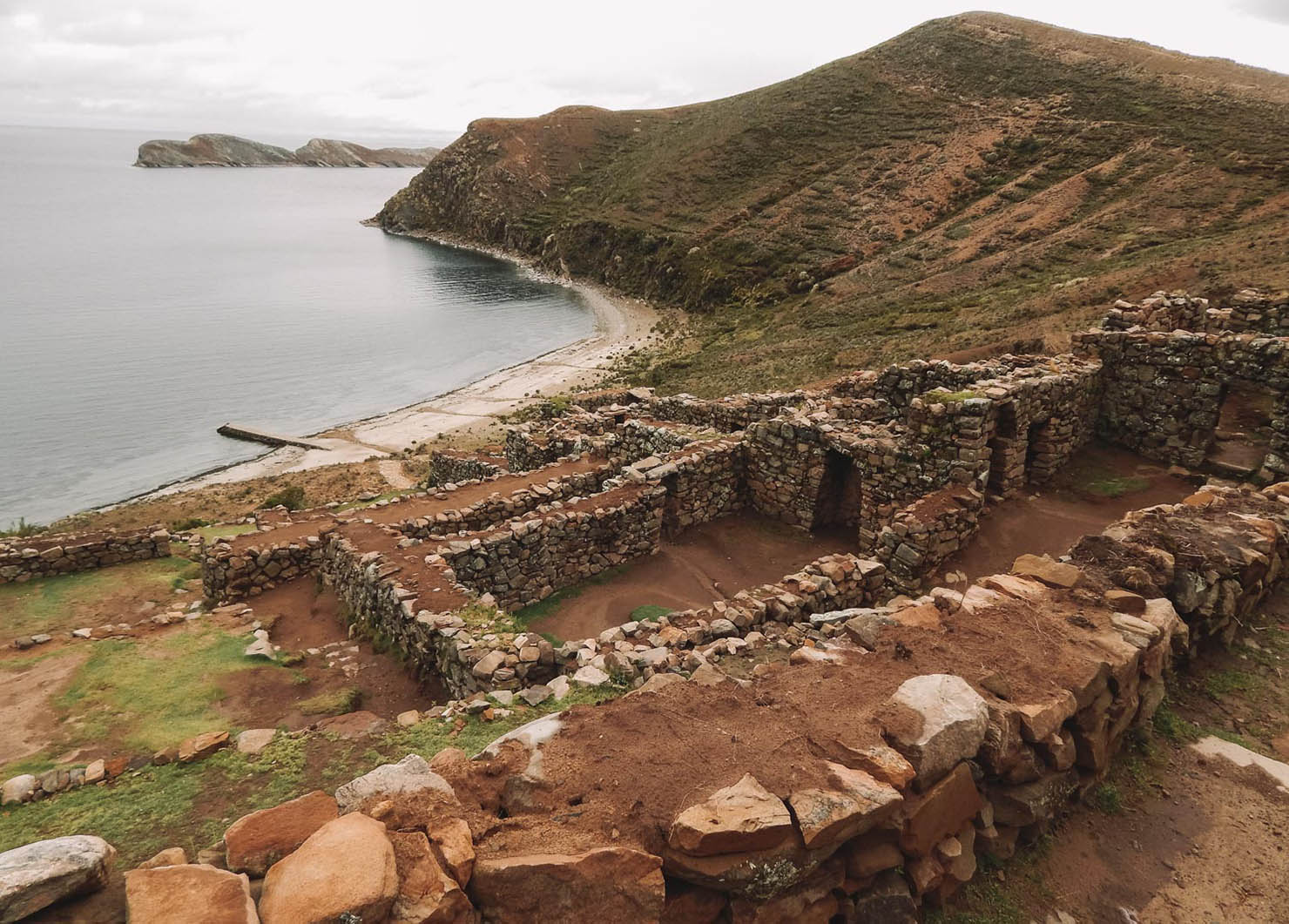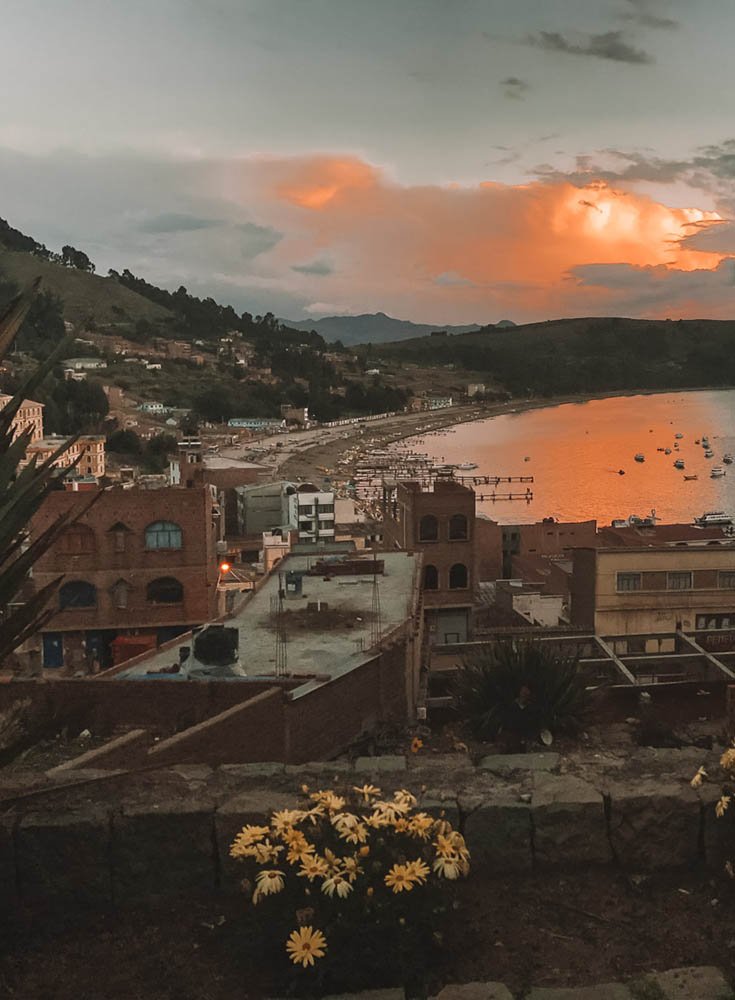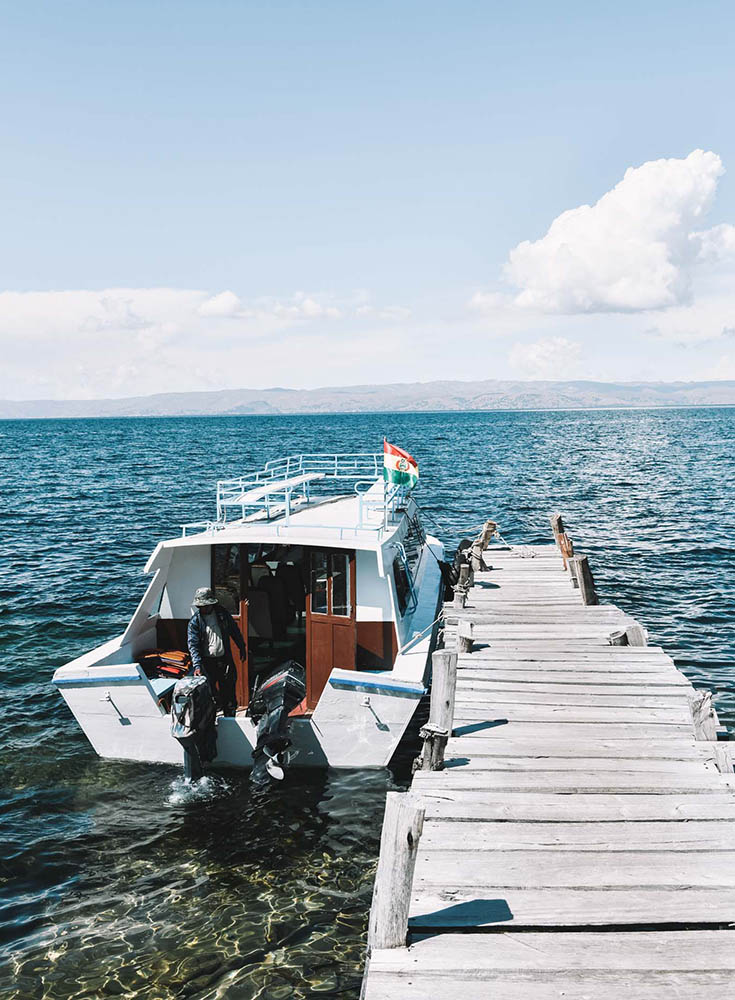 Day 4 – Hike Across the Isla del Sol
For your second day at Lake Titicaca, you should definitely check out the Isla del Sol. Legend holds that this island is the "birthplace of the Inca," and there are several Inca ruins on the island for visitors to explore.
In order to get the most of your time on the island, you will want to start early and get the first ferry over, which leaves around 8:00 am. Be sure to take a ferry to the northside village of Challa Pampa. Two-way tickets cost around 40 BOB (less than $6 USD).
Once you arrive in Challa Pampa, you will begin hiking along the island's Inca trail. Follow the signs to the Chinkana ruins. This archaeological site, while not as large or well-known as others in South America, is still a really neat place to explore.
Wandering through the ruins and seeing the Inca religious sites makes visitors feel like they're stepping back in time.
Leaving Chinkana, you will continue on the island's main Inca trail, the Ruta Sagrada, which runs along the ridge through the center of the island. The views of the island, the lake, and the mountain ranges on the mainland are breathtaking!
Carry some bolivianos so that you can pay the small fees at checkpoints along the route.
All in all, the hike is approximately 6 miles long (10 km) and takes about 3 hours to complete. This, of course, does not include stops for lunch or exploring the ruins.
Helpful Tip:
Be sure to watch your time, as the boats back to the mainland from the town of Yumani on the island's south side stop running by 4:30 pm.
After arriving back in Copacabana, head to the main plaza where you'll see plenty of buses with signs for La Paz. Head back to La Paz for a night of rest before tomorrow's adventures!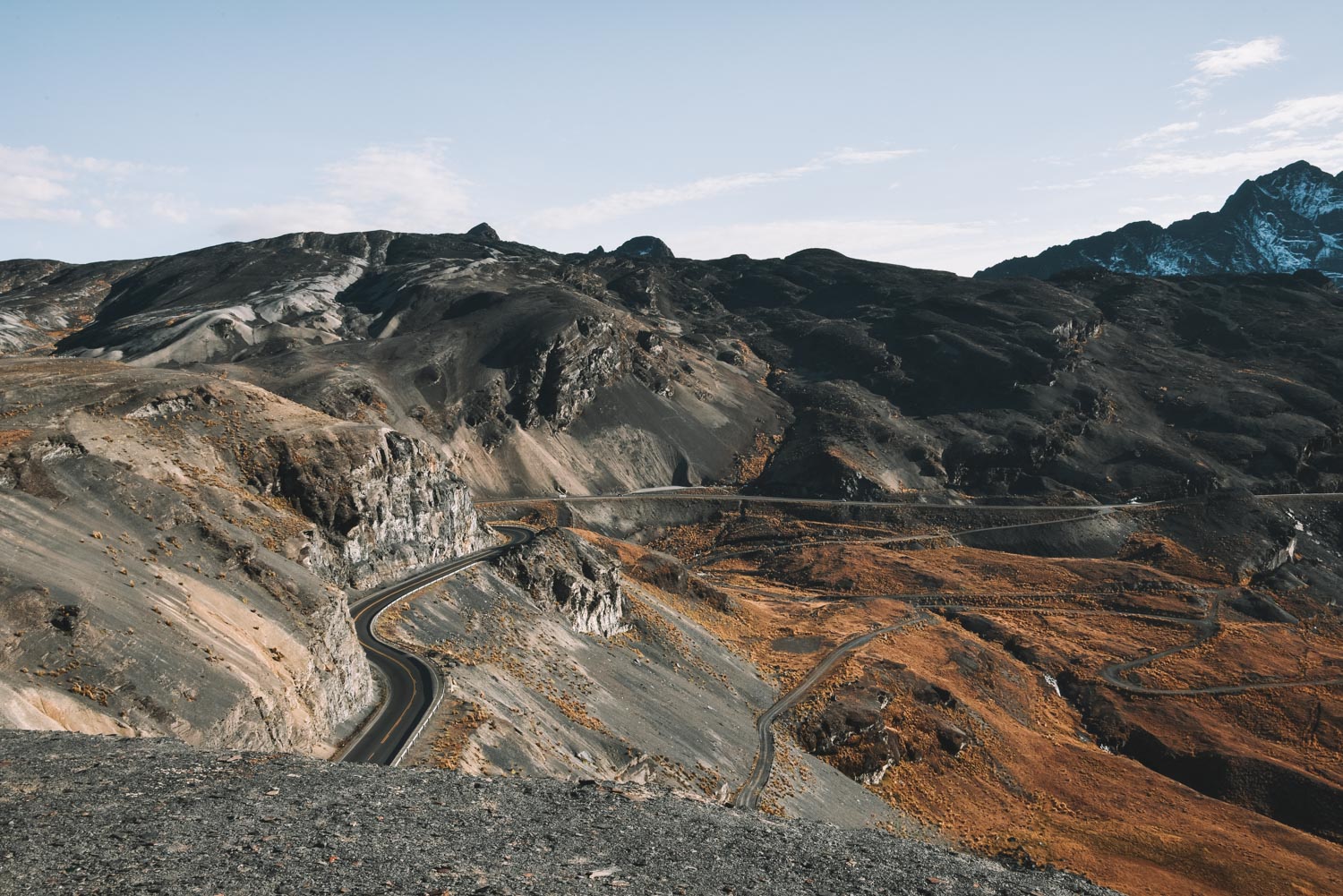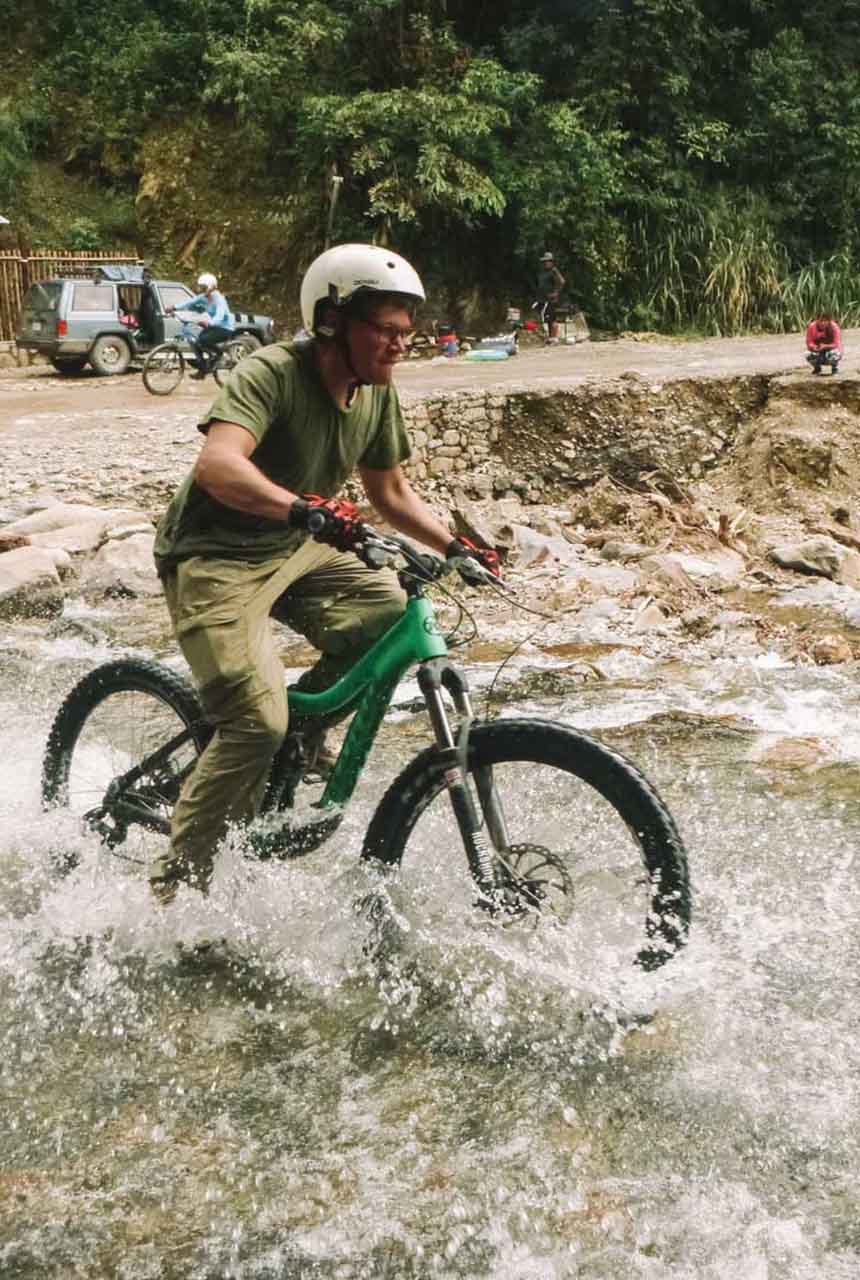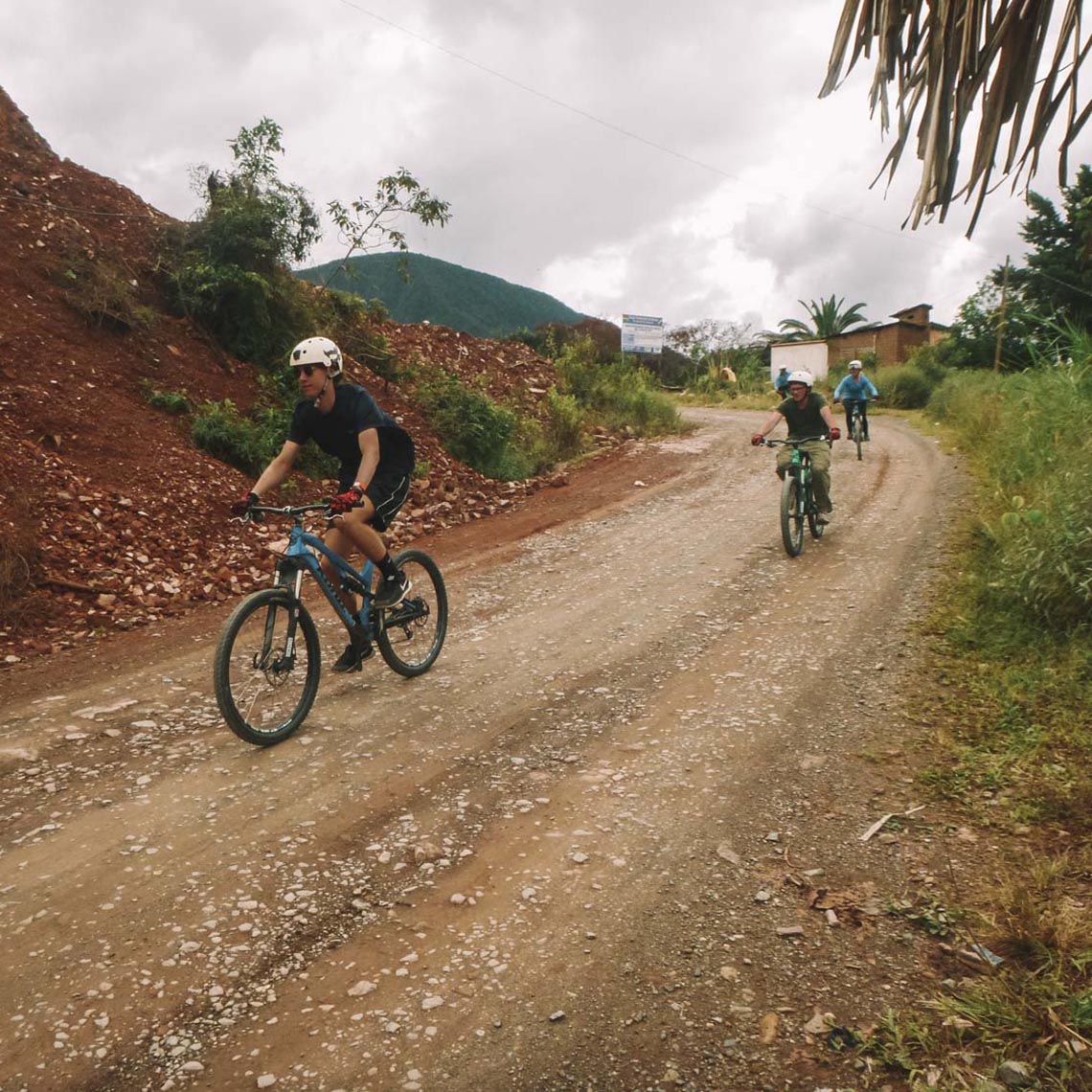 Day 5 – Explore Coroico
It's time to leave the mountains for a while and experience the jungle!
The World's Most Dangerous Road
The town of Coroico is a couple of hours and about 6,000 ft. (a little more than 1,800 m) down from La Paz. For thrill-seekers, there is only one way to get to Coroico from La Paz, and that's by rumbling down the World's Most Dangerous Road on a mountain bike!
Although there are several companies offering Death Road cycling tours, I definitely recommend Gravity Bolivia above all the rest. The guides are knowledgeable bike mechanics, and they all speak English very well.
The bikes themselves are of the highest quality, which makes for a much safer ride. A ride on the Death Road is one of the top tourist activities in Bolivia, and it's an absolute blast!
At the end of your exciting ride, you'll have the opportunity to fly over the jungle on a three-part zip line!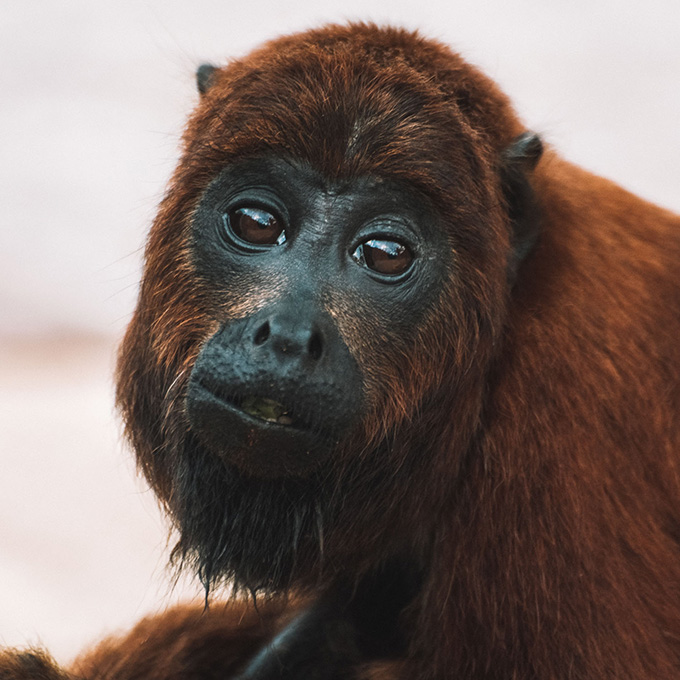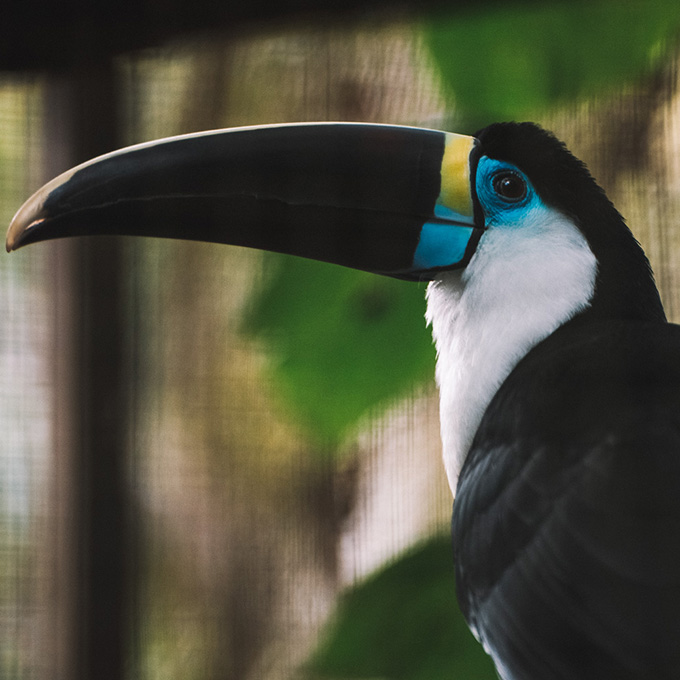 Senda Verde Wildlife Rescue
If you choose to ride with Gravity, you'll also visit Senda Verde, a wildlife rescue that is working to provide a home for and rehabilitate many of the region's monkeys, exotic birds, and other animals that need help. A ride with Gravity includes lunch at the refuge.
You have a choice for the night to stay in Coroico or head back to La Paz. You can actually book your Death Road bike tour with Gravity and include a night at one of Senda Verde's eco-lodge options. This includes tours of the wildlife sanctuary and breakfast. There are plenty of other hotel options in Coroico as well.
If you are not much of a cyclist, you can simply take a minibus to and from Coroico. Buses to Coroico leave La Paz from the Villa Fatima bus station. You can still experience Senda Verde and other activities in Coroico once you arrive!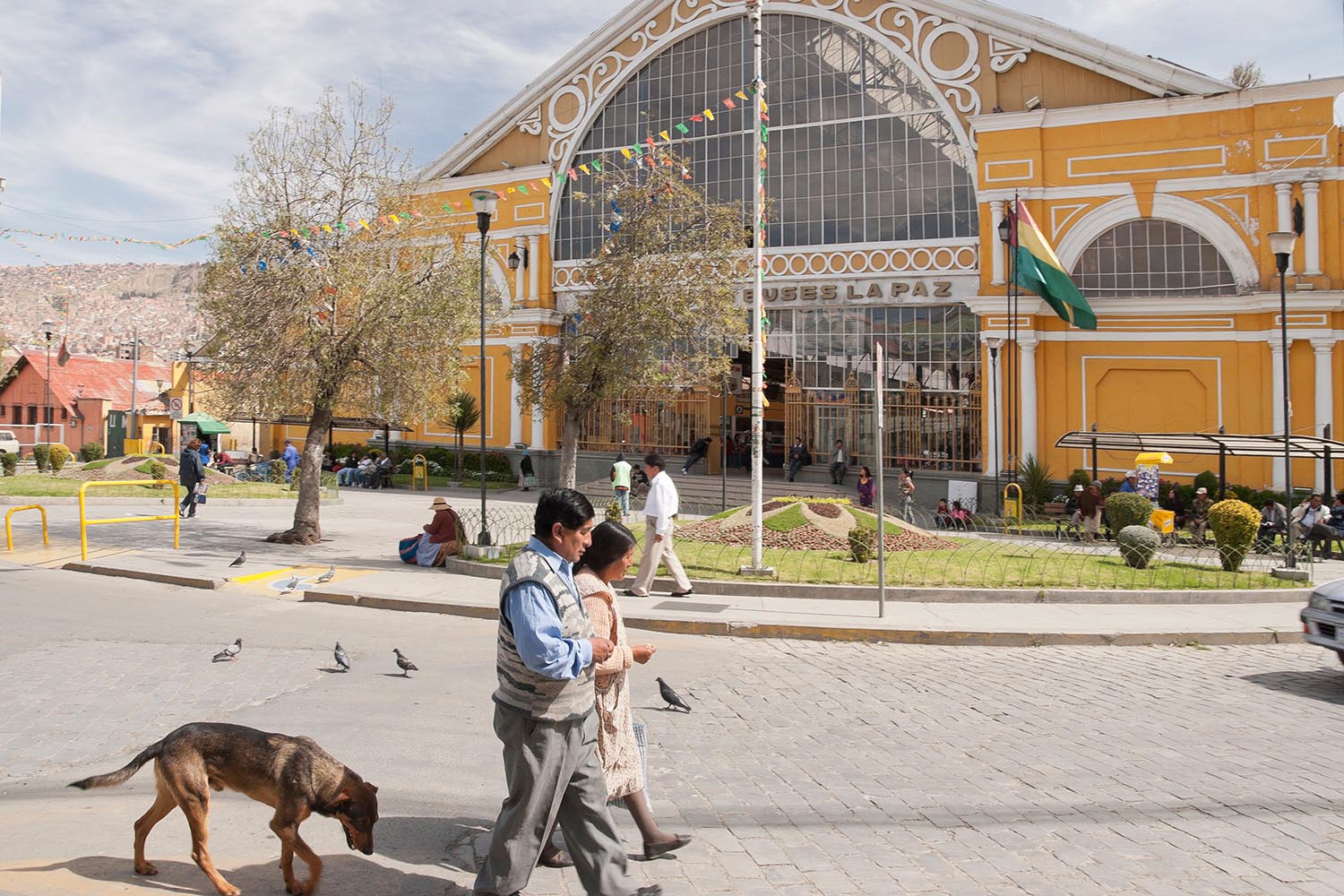 Main bus terminal in La Paz — designed by Gustave Eiffel
Day 6 – La Paz to Uyuni
Depending on where you decided to spend your night, you will either be spending this morning in Coroico or back in La Paz. If you're in Coroico, be sure to check out M&M's coffee shop, or better yet, tour their coffee plantation! The family is passionate about sustainable farming in the region and their coffee is delicious.
Either way, be sure that you make it back to La Paz in time to enjoy a meal at one of the city's many restaurants. Some of my favorites include Vinapho in Sopocachi or the English Pub near Calle Sagarnaga. For vegetarian cuisine, the Magic K Cafe is another great option.
How to Get to Uyuni
You won't need accommodations in La Paz for the night because you will be taking an overnight bus to Uyuni.
The main bus station in Bolivia was actually designed by Gustave Eiffel (yes, that Eiffel). You can either arrive at the bus station and find a bus heading to Uyuni, or you can purchase tickets ahead of time using a website like Tickets Bolivia.
The bus ride to Uyuni from La Paz will take about 8 hours, and most Uyuni tours start early in the morning, so you will want to make sure that whatever overnight bus you choose will arrive in Uyuni by 8:00 am.
Helpful Tip:
Keep your valuables (passport, cash, camera, etc.) on your person during the bus ride, and maybe a neck pillow and cozy sweatshirt so you stay warm and can get some shut-eye on the trip. You'll need your rest because for the next three days you're going to be exploring one of the coolest parts of the world!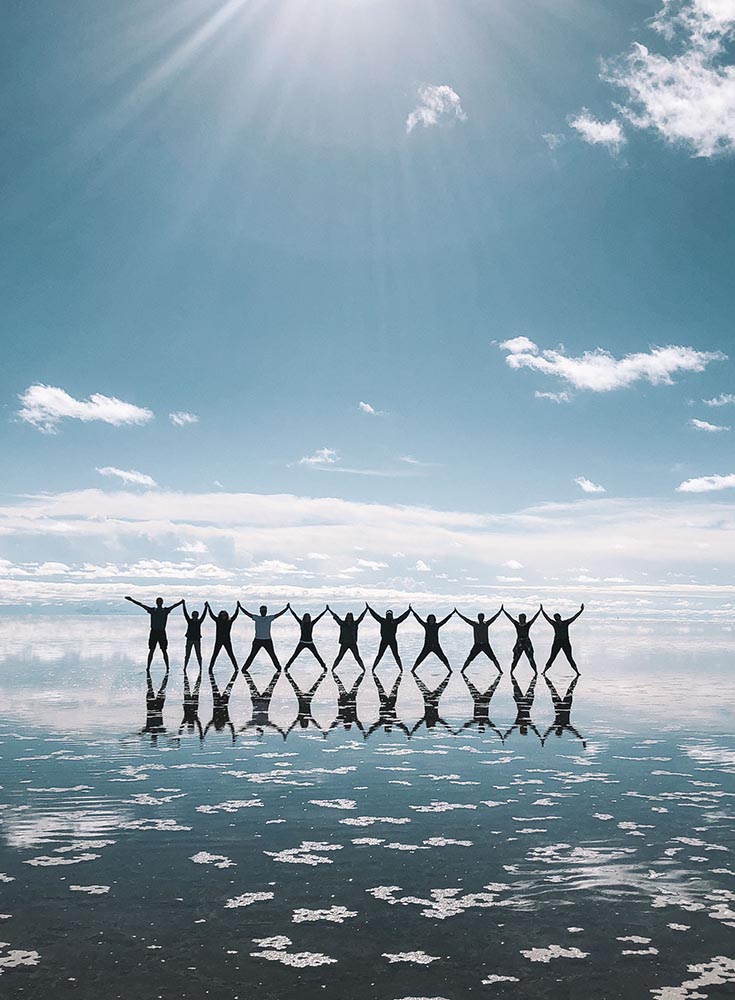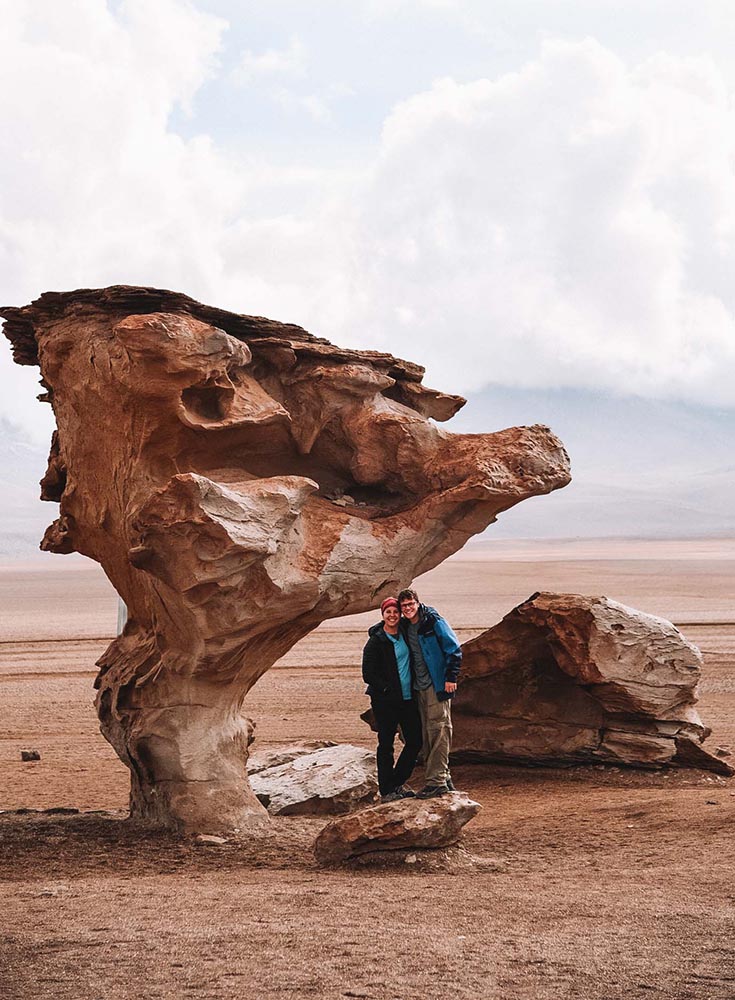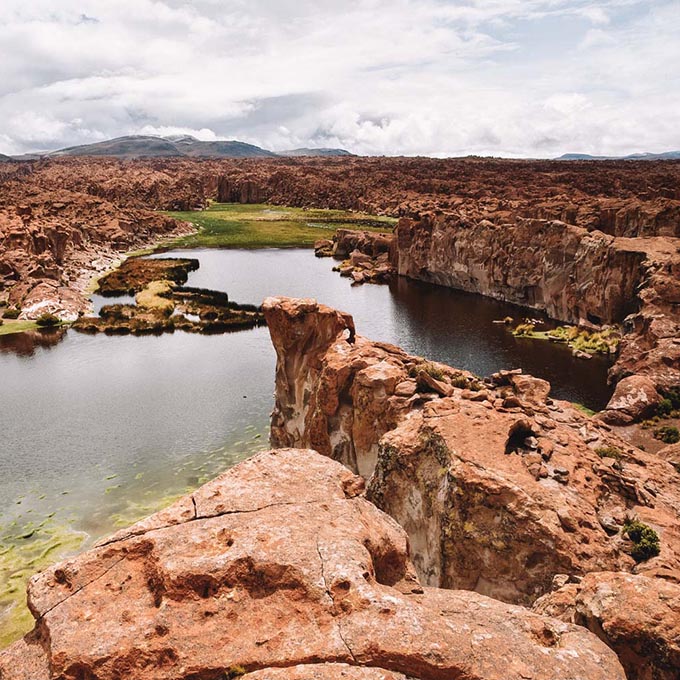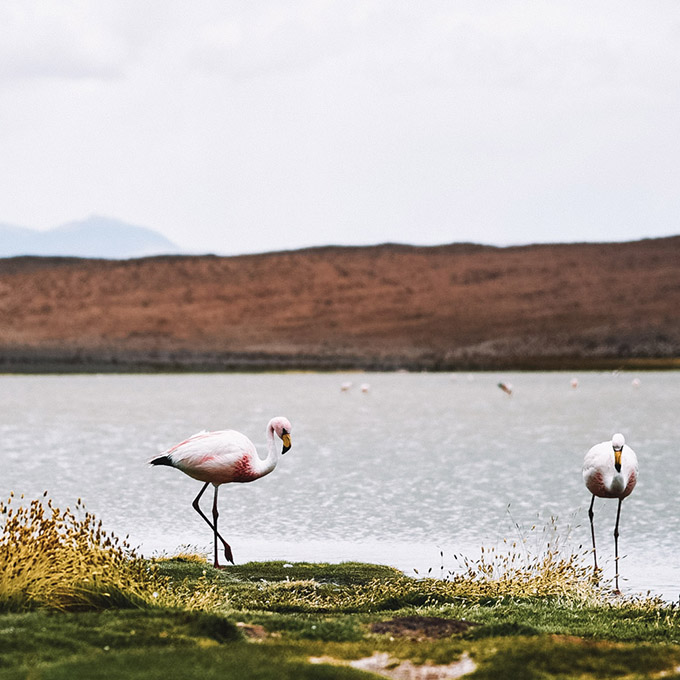 Days 7, 8, and 9 – Marvel at Uyuni's Natural Wonder
The Uyuni salt flat is the largest in the world, and when it rains, it turns into the world's largest mirror! A trip to Bolivia just isn't complete without a visit to the salt flat and the surrounding region full of extraordinary geographic wonders.
Many tour operators offer tours of the area lasting for one, two, or three days, but in my opinion, a three-day, two-night tour is the best option. You will see not only the incredible salt flat but also the train graveyard, colorful mineral-rich lagoons, high altitude deserts, and geyser fields.
Many tours also include stays in hotels made out of salt and the opportunity to take a dip in a natural hot spring.
I highly recommend the Quechua Connection tour company. Day one of the tour starts around 10:30 am, and ends back in Uyuni at around 6:00 pm on day three. They will make sure you see all that Uyuni has to offer. Be sure to snap a few of the cool perspective or mirror photos that Uyuni is known for!
You will need to book accommodations in Uyuni for the final night following your tour. There are many options for budget-friendly hotels and hostels, including the Toñito Hotel which is also home to a great pizza shop.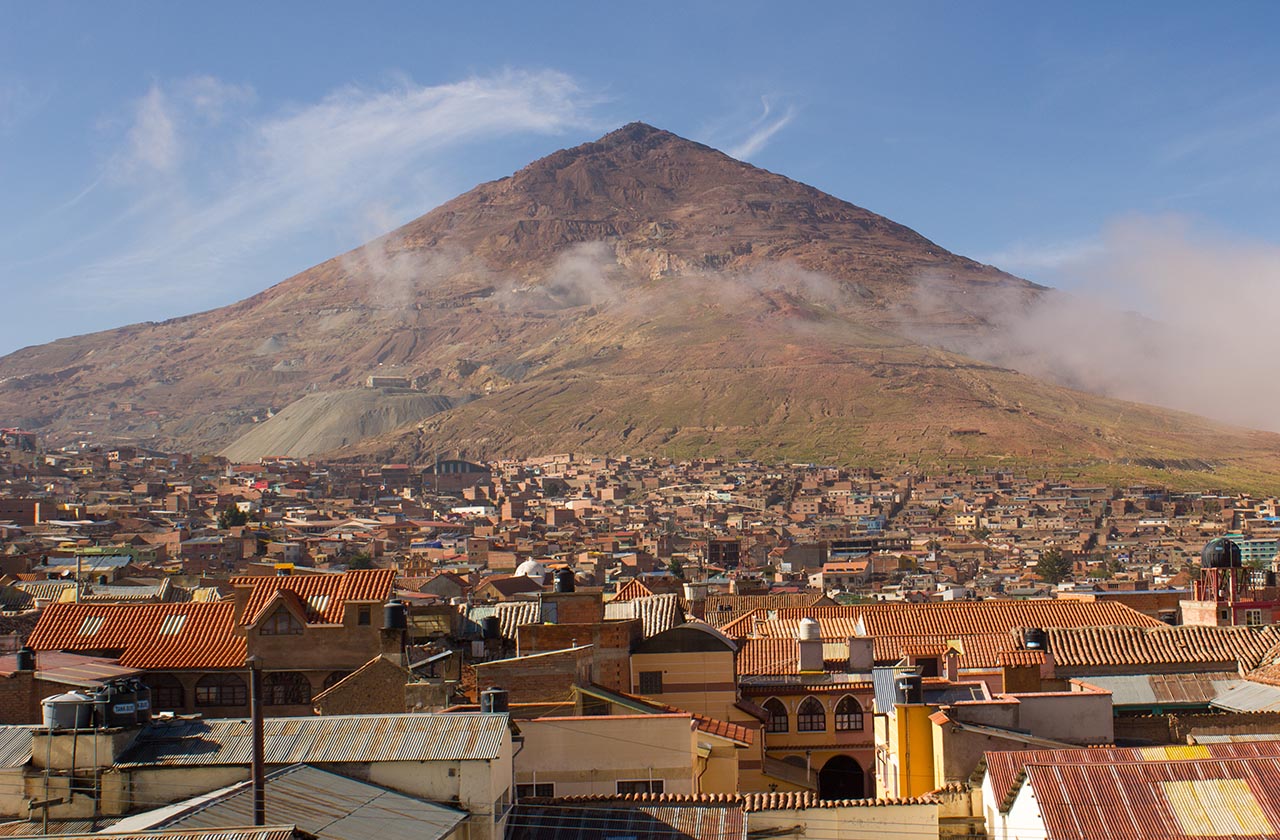 Cerro Rico Silver Mountain
Day 10 – Potosí
How to Get to Potosí
You will have an early start this morning to catch the first bus from Uyuni to Potosí. Operated by the Expreso 11 de Julio bus company, the earliest direct bus to Potosí departs at 7:30 am and arrives at 11:30 am. Again, I recommend booking your tickets ahead of time through Tickets Bolivia in order to secure your travel time.
What to See and Do in Potosí
If you're a student of history, you are probably familiar with Potosí and the Cerro Rico mine that has long stood as a testament to colonial exploitation. The silver from Potosí made the Spanish Empire incredibly wealthy in the sixteenth century, but also led to the deplorable treatment of indigenous miners.
Today, the mine is still functioning, and still dangerous. Ex-miners offer tours of the mine to visitors. If you want to don a hardhat and headlamp and venture into the mines, you certainly can! Just be aware that it is still a working mine, you will be venturing below ground, and accidents can happen.
Potosí has more to offer than just touring the mine. Wandering the streets, the colonial architecture reminds you that this was once one of the world's wealthiest cities.
Visit the San Francisco Convent and get a view of the entire city from its roof. Learn more about Bolivia's history from the Casa Nacional de la Moneda Museum, which used to house the mint to turn Cerro Rico's silver into coins.
Depart Potosí for Sucre
Rather than spending the night in Potosí, you will continue on to Sucre. There are several direct buses to Sucre from Potosí operated by the Trans Emperador bus company. The trip takes about three hours, so make sure you plan your arrival time accordingly to give yourself the ability to check in to your lodgings once you arrive in Sucre.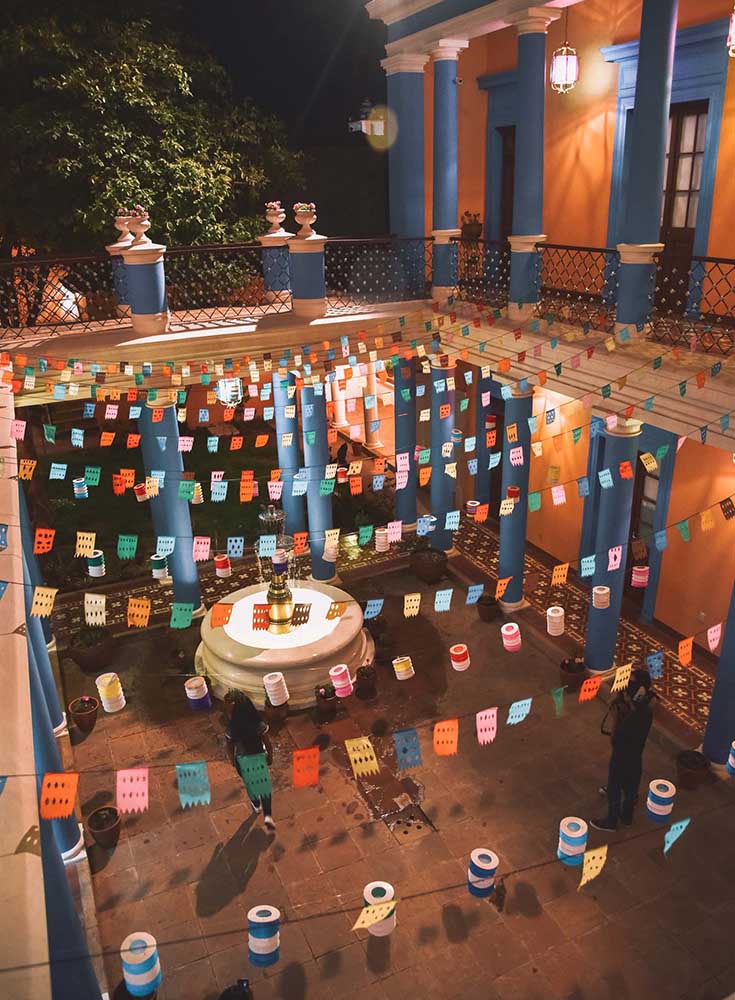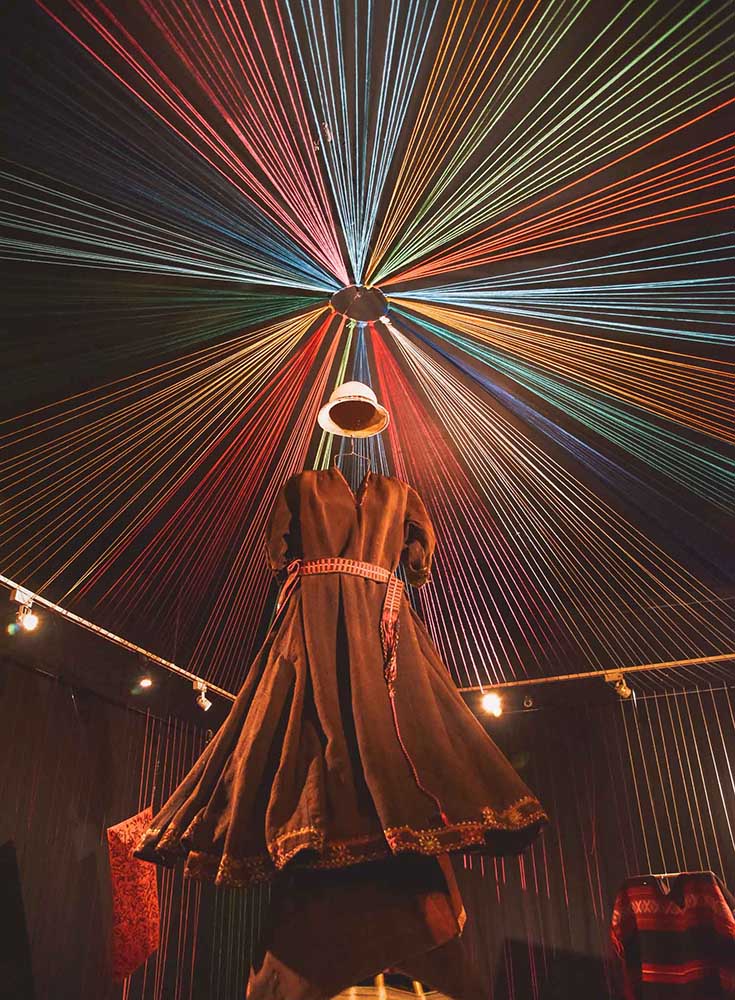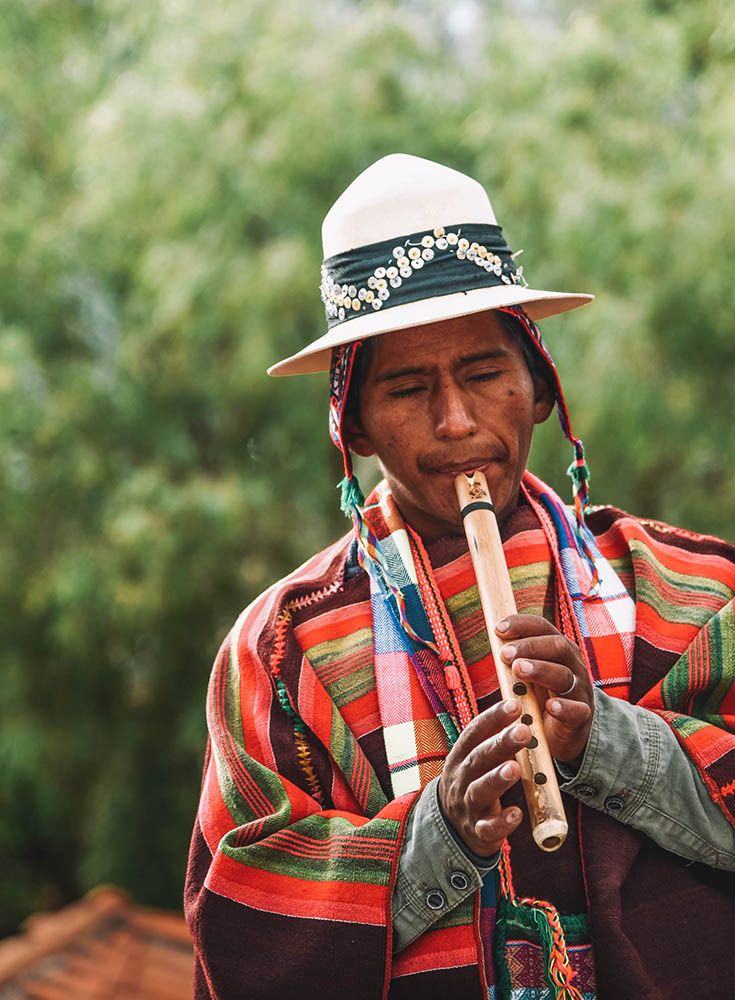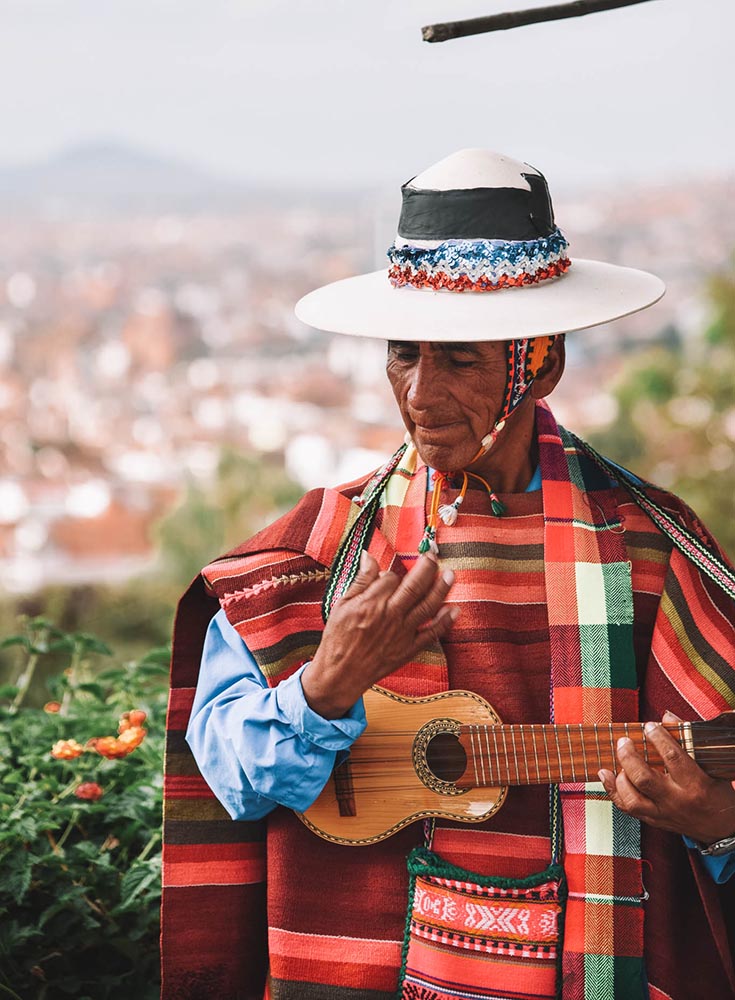 Days 11 and 12 – Sucre
Sucre is the constitutional capital city of Bolivia. Its iconic, white-washed colonial architecture and historical significance make it one of the most popular Bolivian cities to visit.
Here, you can see a wall filled with dinosaur footprints, wander through a pink castle, and visit several museums where you can learn about everything from Bolivia's independence movement to indigenous art. One of my favorite spots to snap photos of the "white city" is the roof of the San Felipe de Neri convent.
There are several clean, safe, and budget-friendly hotels in Sucre to choose from, such as el Hotel de Su Merced, Hostal Condor, or the Parador Santa Maria la Real, as well as a great selection of AirBnbs.
Sucre is one of my favorite cities in Bolivia and there's plenty to see and do during your two-day visit!

Day 13 – Back to La Paz
The bus ride back to La Paz is a long one – twelve hours! – which means you may want to take advantage of another overnight bus.
Not only will you avoid spending a whole day in transit, but you will also save money since you won't have to pay for one night in a hotel.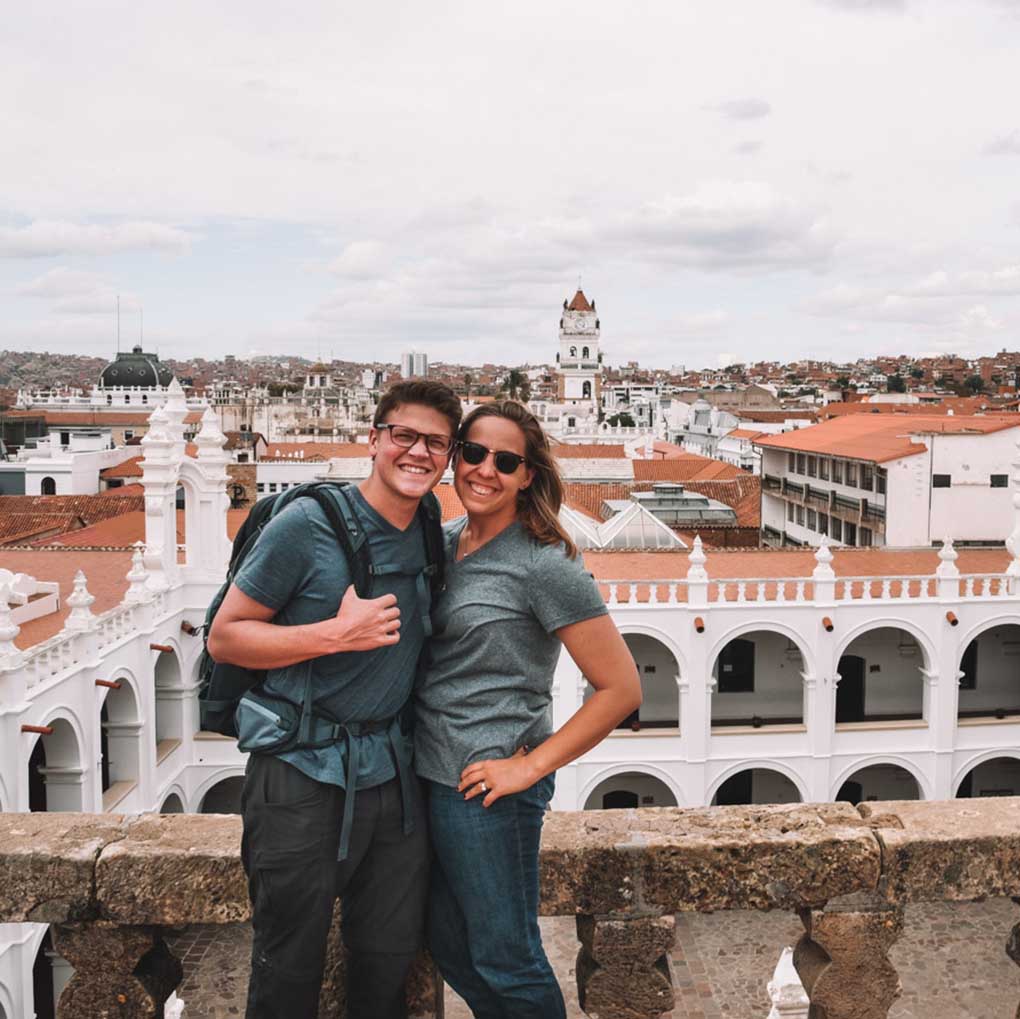 Day 14 – Fly Home
Your action-packed trip to Bolivia has finally come to an end. Time to pack up your bags and fly home!
Wave goodbye to the twinkling city lights and the breathtaking Mount Illimani as the city of La Paz disappears into the clouds out your airplane window!


[ad_2]